Coating
Piano Exterior Coating and Repair
We possess a large-scale coating area capable of handling color blending and wood grain restoration for all types of pianos from upright pianos to grand pianos.
We are also able to handle repairs of individual parts that have scratches or dents.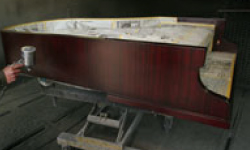 Piano Steel Frame Coating
The steel frames in pianos are an important part as they support string tension the together with the struts. The solidity and precision of the steel frame as a major influence on the piano's durability and sound quality.
We conduct repairs, including coating and correcting distortions depending on condition.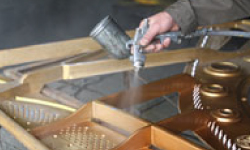 Piano Sound Board Coating
Sound boards are an important part of a piano as they determine sound quality. They act as a medium to increase reverberation by vibrating and amplifying sound.
We examine the state of the sound board, and then carefully perform all steps from restoration to coating.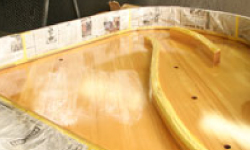 Coating Techniques we are capable of and examples of application.
We give your piano a beautiful finish using a variety of coating techniques.
In addition to the aforementioned, we also apply a variety of other coating materials. For details, please contact us.
Other Coating Techniques
Lacquer coating
Urethane coating
Polyurethane coating
UV coating
Oil coating
Finishing Methods
Mirrored finish
Glossy/matte finish
Oiled finish
Open pore finish
Natural finish
Example of Coating Application
Our original pianos are created through a combination of several different technologies, including coating and woodworking.
Our coating technologies enable us to perform detailed work using inlay and spiral technologies.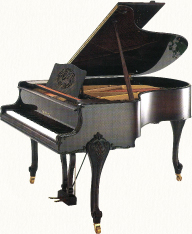 Grand piano
*Spiraled lines on the lid top

*Carvings in various locations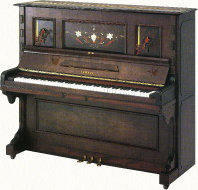 Upright piano
*Decorations on the front board

*Accents on side boards